Ever since 2009, the Yankees have put on what they call HOPE Week.
Hope. Helping Others Persevere and Excel.
One week out of the summer, the Bronx Bombers spotlight individuals, families or organizations worthy of support and recognition. Each day during HOPE Week, honorees share their inspirational stories with the Yankee players, the fans and of course the media.
They are then treated to a special day courtesy of the Yankees — almost becoming like full-on members of the team, participating in team activities, in addition to the Yankees' outreach. The experience is complete with a ceremony at Yankee Stadium before the start of the game. The Yankees have yet to announce when HOPE Week will take place this season.
Whenever HOPE Week happens, it impacts everyone. The interviews with the honorees and players alone are enough to tug at your heart strings.
Yankees.com says "all (HOPE Week) events are designed to generate attention and raise the profile of serious social issues affecting our nation and the world."
We all have problems. A bad day. A career not going in the upward direction you may want it to. A breakup with a significant other. Trifles with paying bills. Whatever it may be.
Then you take a look at the folks involved with something like HOPE Week, and it puts everything into perspective. Take for example the first-ever HOPE Week honoree: a United States Army veteran who lost the use of his arms and legs to Lou Gehrig's disease.
Imagine how hard this hero has to battle every day.
Again, perspective.
My experience in terms of putting everything into perspective came nine days ago.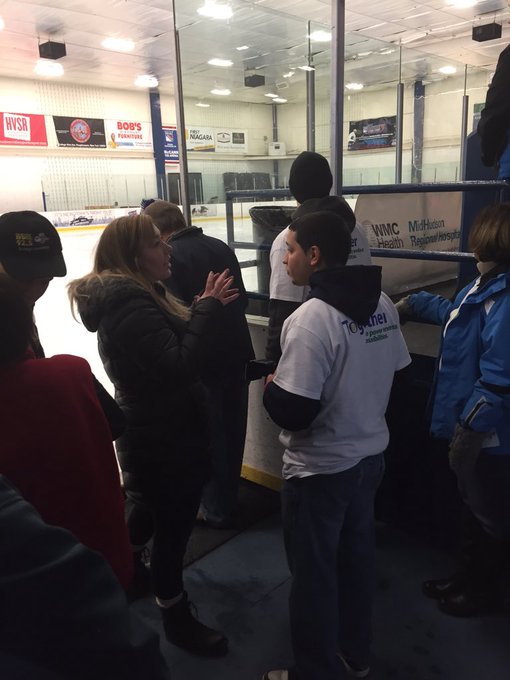 As part of my job, I covered the figure skating event of New York's winter Special Olympics. That day, I was battling a lot of pain from an agonizing toothache. I had been toiling with a long feature story I was working on, and recently I've been coming to grips with the loss of someone I care about.
It's been challenging. And not so fun. Enough to get me feeling bad.
Then I met a few of the athletes of the Special Olympics. Young men, women older than me. All with difficulties. I watched as some of them struggled to just get out onto the ice and perform. A few of them fell down, but when they did, they regained their vertical base, brushed off the slush and kept skating.
I wound up interviewing a skater from Rochester, New York. I could tell she had a hard time getting through the interview. She seemed a little overwhelmed talking to a reporter, but within a few minutes she got the words out as articulately as she could.
She never gave up. That's what I was most impressed with.
Whatever problems I have, I now know first-hand there are others with difficulties that surpass mine. Others who have to handle those difficulties in everyday life and in everything they do, yet they still find courage to do the things that make them happy, like figure skating.
And even when they fall down doing what they love, they get back up and finish.
They persevere. They excel.
I can only guess the Yankee players feel the same way during HOPE Week every year. They likely gain that same perspective. They hear stories and meet folks who make an 0-for seem quite inconsequential.
As for me. The toothache? I went to the dentist. I'm no longer in pain. The feature? It got done. You can read it here. The loss of that person I care about? Eh. That remains to nag me day and night.
But then I consider that figure skater who never gave up. How she competed then got through my interview with her, despite it clearly being an obstacle.
If she can keep going, so can I. So can all of us.
Twitter: @YankeeYapping
In October of 1999 my parents took a two week vacation to Hawaii. During their vacation I spent a few days with my cousins Joe (although he'll always be Joey to me) and Kelly, my Aunt Terry and my Uncle Mike. One night Joey and I were bored, and Uncle Mike took us out to see "For Love of the Game," a baseball movie that has become one of my all-time favorites.
This past year my Uncle Mike suffered from myelodysplastic syndromes, commonly known as MDS – a form of leukemia. Sadly this past Sunday evening, my Uncle Mike passed away.
What I'll always remember about my Uncle Mike was how caring he was; how willing he always was to make others around him happy. As kids, every time Joey and I would be in the backyard of my grandpa's house playing baseball, wiffle ball, or tossing the football back-and-forth, my Uncle Mike would always come and join us. We used to have to get down on our hands and knees and beg the other adults to come and pitch the wiffle ball to us, or pass the football.
With Uncle Mike it was never like that. We never had to beg him. When we were younger, he would always take time and hang out with us, and that's what made him such a special person.
In the summer before I started fourth grade, my Aunt Terry and Uncle Mike invited me on vacation, to Sesame Place in Pennsylvania. Joey and I had a blast, but the highlight of the trip came on the first night. We all went out to dinner to (if memory serves me correctly) TGI Friday's. On the way, we passed a mini-golf course, and over dinner we thought it might be a cool idea to go mini-golfing after we ate.
By the time dinner was over, the golf course was closed. But Uncle Mike came up with a plan.
"I thought I saw a place across the street from the hotel called Caps City," he said to us. "Maybe they have baseball caps there; maybe it's got an arcade and batting cages or something."
Thinking it couldn't hurt, we took a ride there. But little did we know what Caps City really was.
"Aw man!" we heard Uncle Mike exclaim. "This isn't an arcade, it's a truck place!"
As it was, Caps City didn't mean baseball caps, batting cages, or arcades. Just caps for pickup trucks.
For as long as I live, I will never forget that story – and it just proves what a great person my Uncle Mike was. He tried so hard to think of something fun for my cousin and I to do, and although it didn't work out the way we wanted it to, it was still fun.
I last saw Uncle Mike a couple of months ago. He asked me how I was doing and how work was going, to which I responded, "Fine" and "It's going well." It was difficult to see such a wonderful person and someone that I love so sick. But my uncle had a huge heart, and he used it to fight his illness for as long as he could.
Uncle Mike, I wish you peace. You will never be forgotten. Now that I am an uncle to my nephew Ryan, I can only hope I live up to what a fun-loving and caring uncle you were. You've set the bar pretty high!
"I will ransom them from the power of the grave; I will redeem them from death. Where o' death, are your plagues? Where, o' grave, is your destruction?"  – Hosea 13:14